Top News
CELEBRATING POLICE WEEK
Congratulations to GPD members recognized at the GPD Awards Ceremony for Police Week. Thank you for your hard work and dedication in keeping our island safe!
GUAM EDUCATION BOARD MEETING TUES. MAY 16
The Guam Education Board will hold their regular monthly meeting on Tuesday, May 16, 2017 at Chief Brodie elementary school at 6pm. Parents, teachers, students and all stakeholders should attend for DOE updates.
SICK LEAVE SHARING FOR RICHARD BOSSY AND NEETI PRAKASH
Fellow members of DOE, Richard Bossy and Neeti Prakash, are in need of sick leave sharing due to off-island medical treatment. If you are able to donate some of your sick leave, then please contact the GFT Office at 735-4390. Any
Revised PTEP
Hay Pay Grievance
GFT E-Update Newsletter
Sign up to receive GFT's E-Update sent out weekly and stay up to date on events and issues!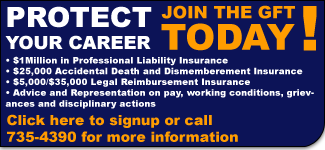 1

2

3

4

5

6

7

8

9

10

11

12

13

14

15

16

17

18

19

20

21

22

23

24

25

26

27

28

29

30

31

Ross Hearing Aids -

10% Off discount on hearing aids

Graphic Center -

$14 for a case of paper (5 reams)

Neni Trendz - 10% off purchases (Purchases available via email contact: russ@nenitrendz.com) Look for Neni Trendz on Facebook for assorted baby accessories & Guam's very own Neni Bottoms Cloth Diapers!
Todo Maoleg - 10% off
T.G.I. Friday's -

15% discount on member's entree

View All Benefits

Pats Tinting & Detailing - $10 off Window Tinting & $15 off Detailing
X-Ray Pro - 20% off on all studies that are less than $100. 25% off studies or multiple studies that are more than $100. Members who are 59 years old and above (ID required) will receive 50% off the regular list price.
Tropic Soap - All orders over 35 pieces will get wholesale price of $1.30 each.
Marianas Footcare Clinic -

15% off sole products

Law Office of Gumataotao & Pole -

GFT Members will receive the following benefits without charge for legal fees (This is subject to Attorney's Availability): • Durable Power of Attorney • Confirmation of Community Property (without Probate) • Summary Administration of Estates Under $20,000. The law office will represent GFT members for Change of Name, Guardianship (adult, minors and Ad Litem) and Adoption for a flat legal fee. All Attorney fees, costs and other fees, including but not be limited to Court filing fees, service of process and summons shall be borne by the Client. All professional work is subject to ethics standards and availability of counsel. Must schedule an appointment to see an Attorney. Call 475-0200 to schedule your free consultation.

Blue Boy Muffler & Auto Services -

10% off any service (excluding oil changes)

Learn Chamorro -

$5 Off Learn Chamorro education DVD

GFT Member Price $15 (regular price $20)

Shell Guam -

Lucky 7 Gold Card Double points!

School Essentials (The Parent Teacher Store) - Minimum purchase of $5.00 earns a 10% Discount
Chamorro Gardens - Discount on Security Deposit
Marks Sporting Goods - 10 % Off Reg. Priced Items
Ace Auto Port -

15% Off All Services (exception of service packages but extra services will be added)

Guam Renewable Energy -

Install a solar panel system at no cost to you! No maintenance fee. No repair fee. No insurance fee. Say you're a GFT member and receive $100 in Gift Certificates to Pay Less. Conditions apply.

Sylvan Learning Center - Present your GFT membership card at time of inquiry and receive $25 off when you schedule a Sylvan Skills Assessment for Reading or Math!
Heritage Boat Charters - 10% Off Weekday Fishing Charters
DOA
Juanita Aguon
Henry Terrell III
Johnny Blas
Alea Marie Dugan
Colasita Gumabon
Sheena Alvarez
Billy Jr. Delgado
Arthur Munier
Timothy Flores
Bertha Taijeron
Joshua James

DOE
Kollin Anthony Dudkiewicz

May 23 Birthdays
Christobal Mesa