Top News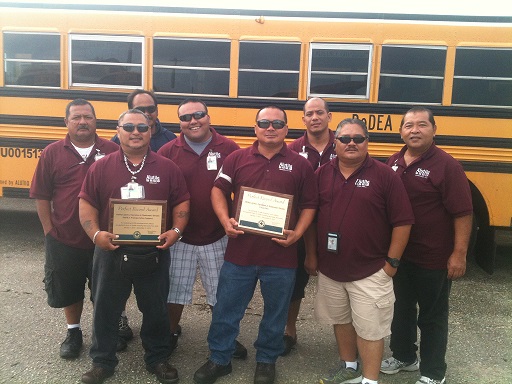 CBA NEGOTIATIONS FOR ALUTIIQ - DODEA BUS DRIVERS COMPLETED!
GFT and ALUTIIQ have completed negotiations for the renewal of the DODEA Bus Drivers' Collective Bargaining Agreement (CBA)! A number of items were negotiated improving the working conditions of our bus drivers such as seniority, overtime work, transfers, paid leave, health and welfare benefits and a 14% increase in wages over a three-year period!
The next step in finalizing the agreement is the ratification voting by members. A copy of the CBA will be distributed to both the Northern and Southern stations and will be sent electronically to all members for their review.
GFT RATIFICATION VOTING
Date & Time: Friday, November 24, 2017 from 9am to 5pm and Saturday, November 25, 2017 from 9am - 3pm.
Location: GFT Office
For more information, please contact the GFT Office at 735-4390.
EARLY THANKSGIVING FOR TEACHERS WITH NEW CBA
Our public school teachers have much to be thankful for after waiting six long years for a signed collective bargaining agreement (CBA)! The agreement includes several items that clarifies and addresses concerns from teachers and administrato
TEACHERS' COLLECTIVE BARGAINING AGREEMENT SIGNED AND APPROVED BY GOVERNOR CALVO
After six long years, the GFT - GDOE Teachers' Collective Bargaining Agreement (CBA) has been signed and approved by Governor Eddie Calvo. The CBA covers several areas affecting the working conditions of our public school teachers,
GENERAL MEMBERSHIP MEETING NOVEMBER 13
The next General Membership Meeting is on Monday, November 13, 2017 at the UOG School of Business and Public Administration Building room #129 at 6pm. Members are highly encouraged to attend for updates on Collective Bargaining Agreements, curr
WHY BECOME A GFT MEMBER?
"In 1988, I was a new teacher and was asked to be a member (GFT). I didn't sign-up at the time because I thought there was no need. However, after hearing a story about another teacher, I decided to safe-guard myself and get on board
HELP PUERTO RICO!
Responding to the water crisis in Puerto Rico, the AFT; Operation Blessing International; the American Federation of State, County and Municipal Employees; and the Hispanic Federation launched Operation Agua to crowdsource contributions and pro
UPDATING GUAM'S WORKERS' COMPENSTATION: AN INJURY AT WORK TO BANKRUPTCY
The purpose of workers' compensation should be to ensure an injured worker receives a timely and predictable compensation until the worker is able to return to work. In 1988, Guam last updated the maximum cap on workers' com
RESCHEDULED UNTIL FURTHER NOTICE: PORT DAILY OVERTIME COURT HEARING
A hearing on the daily overtime pay owed to Stevedore members at the Port Authority of Guam was scheduled on Friday, October 20, 2017 but is now RESCHEDULED UNTIL FURTHER NOTICE.
As stipulated in the Port&
JOB INSURANCE AND MORE
Being a member of GFT is job insurance. When an employee gets blamed for unfortunate events occurring at work, GFT will advocate for a fair representation throughout the entire process. GFT holds Exclusive Recognition for many age
GFT JOINS THE FIGHT
GFT continues to "JOIN THE FIGHT" with Guam Cancer Care giving Guam's businesses, organizations and associations the alliance and common interest in improving the lives of the people of Guam!
GFT - GFD CONTRACT STILL IN PROCESS
Chief negotiators for GFT and the Guam Fire Department met this week to coordinate the final process of negotiations for the GFT - GFD Collective Bargaining Agreement (CBA). A number of items in the CBA have been discussed and negotiated to i
 
Revised PTEP
Hay Pay Grievance

GFT E-Update Newsletter
Sign up to receive GFT's E-Update sent out weekly and stay up to date on events and issues!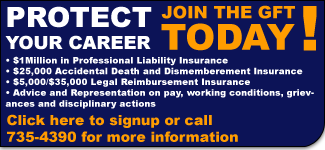 1

2

3

4

5

6

7

8

9

10

11

12

13

14

15

16

17

18

19

20

21

22

23

24

25

26

27

28

29

30

Tropic Soap - All orders over 35 pieces will get wholesale price of $1.30 each.
Todo Maoleg - 10% off
Ace Auto Port -

15% Off All Services (exception of service packages but extra services will be added)

Blue Boy Muffler & Auto Services -

10% off any service (excluding oil changes)

T.G.I. Friday's -

15% discount on member's entree

View All Benefits

Marks Sporting Goods - 10 % Off Reg. Priced Items
Neni Trendz - 10% off purchases (Purchases available via email contact: russ@nenitrendz.com) Look for Neni Trendz on Facebook for assorted baby accessories & Guam's very own Neni Bottoms Cloth Diapers!
Learn Chamorro -

$5 Off Learn Chamorro education DVD

GFT Member Price $15 (regular price $20)

Heritage Boat Charters - 10% Off Weekday Fishing Charters
Marianas Footcare Clinic -

15% off sole products

Pats Tinting & Detailing - $10 off Window Tinting & $15 off Detailing
Shell Guam -

Lucky 7 Gold Card Double points!

Sylvan Learning Center - Present your GFT membership card at time of inquiry and receive $25 off when you schedule a Sylvan Skills Assessment for Reading or Math!
Chamorro Gardens - Discount on Security Deposit
Ross Hearing Aids -

10% Off discount on hearing aids

Guam Renewable Energy -

Install a solar panel system at no cost to you! No maintenance fee. No repair fee. No insurance fee. Say you're a GFT member and receive $100 in Gift Certificates to Pay Less. Conditions apply.

Gaylord -

10% off All Items including Rental

X-Ray Pro - 20% off on all studies that are less than $100. 25% off studies or multiple studies that are more than $100. Members who are 59 years old and above (ID required) will receive 50% off the regular list price.
Law Office of Gumataotao & Pole -

GFT Members will receive the following benefits without charge for legal fees (This is subject to Attorney's Availability): • Durable Power of Attorney • Confirmation of Community Property (without Probate) • Summary Administration of Estates Under $20,000. The law office will represent GFT members for Change of Name, Guardianship (adult, minors and Ad Litem) and Adoption for a flat legal fee. All Attorney fees, costs and other fees, including but not be limited to Court filing fees, service of process and summons shall be borne by the Client. All professional work is subject to ethics standards and availability of counsel. Must schedule an appointment to see an Attorney. Call 475-0200 to schedule your free consultation.

School Essentials (The Parent Teacher Store) - Minimum purchase of $5.00 earns a 10% Discount
Nov 21 Birthdays
Annette Galvez
Marlina Rose Olkeriil
Evelyn Ann Quiroz
Peter Salas
Therese Salas
Marilyn Tablan
Lenny Tajalle