Top News
CONVENTION PHOTOBOOTH PHOTOS ARE UP!
GFT's 10th Annual Convention Photobooth photos are up on the Jetadore facebook. You may view photos here.
NEW CBA FOR TEACHERS!
After 6 long years of negotiating, the GFT – GDOE Collective Bargaining Agreement (CBA) was approved and ratified in a unanimous vote by the Guam Education Board! The CBA was signed by Board Chairman, Peter Alecxis Ada, Guam Department
BOARD APPROVES TEACHERS CBA!
In a unanimous vote, the Guam Education Board approved and signed the Teachers Collective Bargaining Agreement (CBA)! The CBA will now be submitted to the Attorney General then Governor for final signature.
TEACHERS RATIFY CBA!
By a unanimous vote, the GFT – GDOE Collective Bargaining Agreement (CBA) was approved and ratified by members of the Guam Federation of Teachers. The CBA must now be ratified by the Guam Education Board before submitting to the A
GFT - GWA CBA RENEWAL RATIFICATION FRIDAY, MARCH 10!
The Ratification for the GFT - GWA Collective Bargaining Agreement Renewal will be on Friday, March 10, 2017 from 8am to 6pm at the GFT Office in Mangilao. Members of the Guam Waterworks Authority may contact the GFT Office at 735-4390 to rev
RATIFICATION FOR REVISED TEACHERS CBA THIS FRIDAY, MARCH 3
Ratification for the GFT - GDOE Teachers Collective Bargaining Agreement is set for this Friday, March 3, 2017 at the UOG School of Business & Public Administration room #129 from 4 - 7pm. Please bring your GFT Membership card and/or
GFT - GDOE TEACHERS CBA RATIFICATION MONDAY, FEBRUARY 27!
The GFT - GDOE Teachers Collective Bargaining Agreement Ratification Voting will be on Monday, February 27, 2017 from 4pm to 7pm at the UOG School of Business and Public Administration Multipurpose room #129. GFT members in the Bargaini
GFT - DPW CBA AT GOVERNOR'S OFFICE!
The GFT - DPW Collective Bargaining Agreement for Bus Drivers has been ratified by the membership, signed by the Attorney General and now awaiting final signature of the Governor! Once signed, the Collective Bargaining Agreement will be
GFT – GDOE TEACHERS CBA READY TO REVIEW!
The negotiations for the GFT – GDOE Teachers Collective Bargaining Agreement has been completed. Both the GFT membership and the Guam Education Board must ratify the agreement before submitting to the Attorney General&rsq
2017 ELECTION FOR AT-LARGE OFFICERS
The following members had filed an announcement of candidacy as per Article VI, Section C of the GFT By-Laws; Sanjay Sharma, President; Timothy Fedenko, Vice-President; Corazon Mucho, Secretary; and James Lujan, Treasurer; as candidates unopp
Revised PTEP
Hay Pay Grievance
GFT E-Update Newsletter
Sign up to receive GFT's E-Update sent out weekly and stay up to date on events and issues!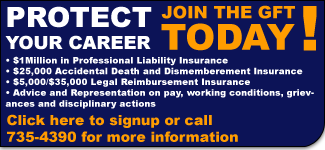 1

2

3

4

5

6

7

8

9

10

11

12

13

14

15

16

17

18

19

20

21

22

23

24

25

26

27

28

29

30

31

Guam Renewable Energy -

Install a solar panel system at no cost to you! No maintenance fee. No repair fee. No insurance fee. Say you're a GFT member and receive $100 in Gift Certificates to Pay Less. Conditions apply.

Graphic Center -

$14 for a case of paper (5 reams)

Heritage Boat Charters - 10% Off Weekday Fishing Charters
Ace Auto Port -

15% Off All Services (exception of service packages but extra services will be added)

Shell Guam -

Lucky 7 Gold Card Double points!

View All Benefits

X-Ray Pro - 20% off on all studies that are less than $100. 25% off studies or multiple studies that are more than $100. Members who are 59 years old and above (ID required) will receive 50% off the regular list price.
Learn Chamorro -

$5 Off Learn Chamorro education DVD

GFT Member Price $15 (regular price $20)

Pats Tinting & Detailing - $10 off Window Tinting & $15 off Detailing
School Essentials (The Parent Teacher Store) - Minimum purchase of $5.00 earns a 10% Discount
Blue Boy Muffler & Auto Services -

10% off any service (excluding oil changes)

Neni Trendz - 10% off purchases (Purchases available via email contact: russ@nenitrendz.com) Look for Neni Trendz on Facebook for assorted baby accessories & Guam's very own Neni Bottoms Cloth Diapers!
Marianas Footcare Clinic -

15% off sole products

Chamorro Gardens - Discount on Security Deposit
Marks Sporting Goods - 10 % Off Reg. Priced Items
T.G.I. Friday's -

15% discount on member's entree

Sylvan Learning Center - Present your GFT membership card at time of inquiry and receive $25 off when you schedule a Sylvan Skills Assessment for Reading or Math!
Todo Maoleg - 10% off
Law Office of Gumataotao & Pole -

GFT Members will receive the following benefits without charge for legal fees (This is subject to Attorney's Availability): • Durable Power of Attorney • Confirmation of Community Property (without Probate) • Summary Administration of Estates Under $20,000. The law office will represent GFT members for Change of Name, Guardianship (adult, minors and Ad Litem) and Adoption for a flat legal fee. All Attorney fees, costs and other fees, including but not be limited to Court filing fees, service of process and summons shall be borne by the Client. All professional work is subject to ethics standards and availability of counsel. Must schedule an appointment to see an Attorney. Call 475-0200 to schedule your free consultation.

Ross Hearing Aids -

10% Off discount on hearing aids

Tropic Soap - All orders over 35 pieces will get wholesale price of $1.30 each.
DOA
Ervin Mafnas
Fay Anne Aderiano
Jordan Rumong
Lorina Guerrero
Timothy Barja
Shane Quintanilla
Alexander Aflague
Adrian Mora
Joseph Palomo
Luis Perez
Noel Jay Dacaldacal
Vincent Tenorio
Bernard Primero
Ryan Urquizu
Daniel Afaisen
Dolores Flores
Tulen Nena
William Cruz
Joseph Pablo
Barbara Tayama
Valerie Pereda
Shena San Nicholas
Michael De Chaves
Renie Tumanda
Gerard Aflague
Jesse Duenas
Brian Whalen
Jaerica Tianie Sanchez
Angeli Kathrine Torres
Jeannie Gaag
Jesse Borja
Antoinette Quinata
Pete Ofeciar
Adam Grey
John Pangelinan
Eugene Igros
Arcy Castillo
Joey Almoguera
Jostin-Jon Cruz

DOE
Joanne Blas
April Ann Cordova
Dylan D' Anthony Orot
Anngelica Jae Diego
Danny Crytser

Mar 28 Birthdays
Doris DeQuiroz
Joseph Duenas
Albert Fejeran