Top News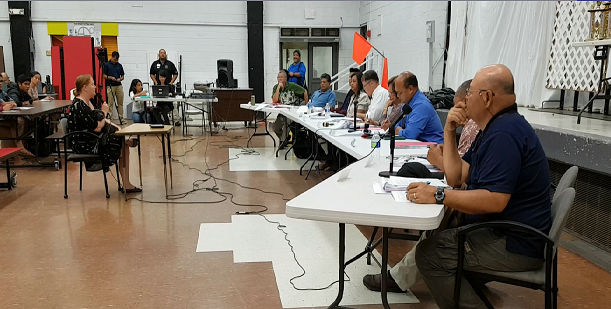 ATTN: TEACHERS OWED BRIP PAY
GFT members and stewards have reached out to DOE Superintendent, Jon Fernandez, and the Guam Education Board in getting the BRIP (Bonus, Rewards, and Incentives Program) payment made that have been owed to teachers for several years now. GFT Steward and Board-Union representative, Frank Perez, brought up the issue during the GEB meeting in March then later submitted documents to the Superintendent.
At the following GEB meeting in April, GFT Steward, Shannon Seleen provided testimony regarding the owed BRIP pay. Guam Education Board member, James Lujan, then motioned for the GEB to acknowledge the BRIP Pay owed to teachers and refer the matter to their finance committee for review and research to order the pay. The motion was approved. The GEB will be addressing this matter upon submission of documents of all affected teachers from Fernandez.
All teachers owed the BRIP pay should email irish@gftunion.com or contact the GFT Office at 735-4390 to ensure their documents are submitted to DOE.
GFT URGES TO CHANGE EDUCATOR CONDUCT LAW
GFT Representative, Dan Del Priore, continues to work with the Legislature in amending Public Law 32-236 regarding Educator Conduct. Del Priore is in active meetings and discussions with the Office of Senator Joe San Agustin, who oversees
GENERAL MEMBERSHIP MEETING MONDAY, MAY 15
The next GFT General Membership meeting will be on Monday, May 15, 2017 at the UOG SBPA Multipurpose room #129 at 6pm. All members are encouraged to attend for updates on collective bargaining agreements, current issues, upcoming events
GFT REACHES OUT TO GUAM DOL ON HAZARD PAY
GFT representatives met with the Guam Department of Labor Director, Sam Mabini, and Administrator, Greg Massey, to discuss issues regarding hazard pay for employees at the Guam Behavioral Health and Wellness Center and nurses at the Guam Memo
SANCHEZ SAVED!
The Shark family voices of Simon Sanchez High School were heard at the Yigo Town Hall meeting concerning Bill 70 - 34, converting Simon Sanchez into a charter school. After testimonies from students, parents and teachers all opposing Bill
YIGO TOWN HALL MEETING TUESDAY, MAY 2 ON BILL 70!
Students, parents, teachers, administrators and all other stakeholders are highly encouraged to voice their concerns regarding Bill 70, converting Simon Sanchez High School into a Charter School, at the Yigo Town Hall meeting on Tuesday, May
GFT - GMHA CBA FOR NURSES COMPLETED!
The GFT – GMHA collective bargaining agreement for nurses has been completed and signed by both Chief Negotiators. The CBA has been submitted to the Hospital Administrator for signature then will be forwarded to the GMHA Board for
CBA RENEWAL SIGNED FOR GWA!
The Guam Consolidated Commission on Utilities approved the renewal of the GFT – GWA Collective Bargaining Agreement! The renewal has been signed and ratified by GFT, GWA and the CCU. The CBA covers several items protecting t
Revised PTEP
Hay Pay Grievance
GFT E-Update Newsletter
Sign up to receive GFT's E-Update sent out weekly and stay up to date on events and issues!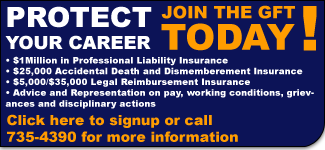 1

2

3

4

5

6

7

8

9

10

11

12

13

14

15

16

17

18

19

20

21

22

23

24

25

26

27

28

29

30

31

Todo Maoleg - 10% off
Graphic Center -

$14 for a case of paper (5 reams)

T.G.I. Friday's -

15% discount on member's entree

Tropic Soap - All orders over 35 pieces will get wholesale price of $1.30 each.
Ross Hearing Aids -

10% Off discount on hearing aids

View All Benefits

Neni Trendz - 10% off purchases (Purchases available via email contact: russ@nenitrendz.com) Look for Neni Trendz on Facebook for assorted baby accessories & Guam's very own Neni Bottoms Cloth Diapers!
X-Ray Pro - 20% off on all studies that are less than $100. 25% off studies or multiple studies that are more than $100. Members who are 59 years old and above (ID required) will receive 50% off the regular list price.
School Essentials (The Parent Teacher Store) - Minimum purchase of $5.00 earns a 10% Discount
Shell Guam -

Lucky 7 Gold Card Double points!

Ace Auto Port -

15% Off All Services (exception of service packages but extra services will be added)

Marianas Footcare Clinic -

15% off sole products

Guam Renewable Energy -

Install a solar panel system at no cost to you! No maintenance fee. No repair fee. No insurance fee. Say you're a GFT member and receive $100 in Gift Certificates to Pay Less. Conditions apply.

Pats Tinting & Detailing - $10 off Window Tinting & $15 off Detailing
Learn Chamorro -

$5 Off Learn Chamorro education DVD

GFT Member Price $15 (regular price $20)

Chamorro Gardens - Discount on Security Deposit
Heritage Boat Charters - 10% Off Weekday Fishing Charters
Sylvan Learning Center - Present your GFT membership card at time of inquiry and receive $25 off when you schedule a Sylvan Skills Assessment for Reading or Math!
Law Office of Gumataotao & Pole -

GFT Members will receive the following benefits without charge for legal fees (This is subject to Attorney's Availability): • Durable Power of Attorney • Confirmation of Community Property (without Probate) • Summary Administration of Estates Under $20,000. The law office will represent GFT members for Change of Name, Guardianship (adult, minors and Ad Litem) and Adoption for a flat legal fee. All Attorney fees, costs and other fees, including but not be limited to Court filing fees, service of process and summons shall be borne by the Client. All professional work is subject to ethics standards and availability of counsel. Must schedule an appointment to see an Attorney. Call 475-0200 to schedule your free consultation.

Marks Sporting Goods - 10 % Off Reg. Priced Items
Blue Boy Muffler & Auto Services -

10% off any service (excluding oil changes)
DOA
Juanita Aguon
Henry Terrell III
Johnny Blas
Alea Marie Dugan
Colasita Gumabon
Sheena Alvarez
Billy Jr. Delgado
Arthur Munier
Timothy Flores
Bertha Taijeron
Joshua James

DOE
Kollin Anthony Dudkiewicz

May 23 Birthdays
Christobal Mesa