SAVE THE DATE: AUG 5 GFT TB TEST & HEALTH FAIR
Updated Jun 25, 2017 4:02 pm
This page viewed 1215 times.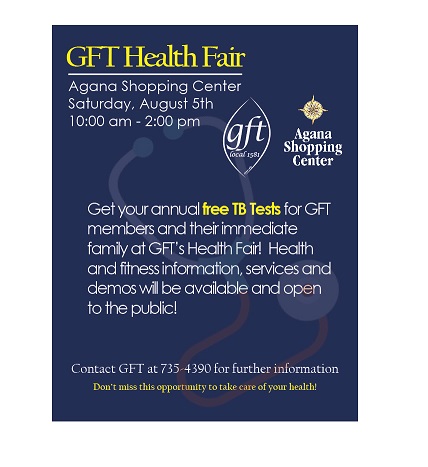 GFT's 12th Annual TB Test & 4th Annual Health Fair will be held on Saturday, August 5, 2017 at the Agana Shopping Center (Center Court) from 10am - 2pm. TB Tests are FREE for GFT members and their immediate family. Health and fitness information, services and demos will be available at the event and open to the public. Interested volunteers or vendors may contact Geraldine Guerrero at 735-4390 or email gerri@gftunion.com.
POSTING OF COMMENTS FOR GFT MEMBERS ONLY