PIZZA HUT BOOK-IT PACKETS ARE AVAILABLE!
Updated Sep 22, 2017 12:28 am
This page viewed 1280 times.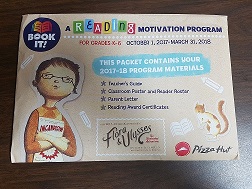 Pizza Hut Book-It packets are ready for pick up at the GFT Office during normal office hours, Monday to Friday between 8am – 5pm. Members may pick up the packets for their school on a first come, first serve basis while supplies last. Book-It Rewards are available for elementary schools and sixth grade reading classes.
POSTING OF COMMENTS FOR GFT MEMBERS ONLY